Black Panther, the first film in eight years to spend five weeks at No. 1 in the box office, is available digitally in HD and 4K Ultra HD, Movies Anywhere, Blu-ray, DVD and On-Demand today, May 15, 2018.
Buy Black Panther at this affiliate link.
While in LA for the Avengers: Infinity War premiere, I had the chance to chat with Black Panther Executive Producer Nate Moore about the movie and the Black Panther bonus features. Here is what I learned.
3 Interesting Stories
Nate mentioned the team had a brainstorming session where they pitched ideas for interesting footage to include in the bonus features. Here are 3 interesting stories he shared with us and what he said about them:
"The Crowning of a New King. This is sort of behind the scenes of how we put Wakanda together. It goes through everything from postproduction design to visual effects to cast and story."
"The Warriors Within, this is getting to know Wakanda's women…the female characters are such a big important part of this film… And our actresses are amazing… you get to see a little bit of the behind the scenes of how they brought Okoye and Nakia and Shuri to life…"
"The Hidden Kingdom Revealed, this goes into a little bit of how we crafted the different tribes that make up Wakanda…. one of our sort of remits very early on was making sure Wakanda felt as authentic as possible for being this fictional African nation. You'll get to see some of the real-life references that we used to make sure Wakanda feels like a place you could actually visit."
Check out the sneak previews
Filming Locations
I was a little surprised to know that most of the movie was filmed in Atlanta, Georgia, Nate also mentioned a couple more locations: "We shot plates in South America and in South Africa. The only other stuff that's not shot in Atlanta was the car chase, was shot in South Korea."
If you want to know, the casino and the waterfall were built on a stage. Can you believe that?
Black Panther's Sister
We know women are very important characters in this film, I loved seeing their strength and bravery. However, Shuri (Letitia Wright) really caught my eye. She, as King T'Challa's sister, was funny, charming, intelligent, and interesting. Nate mentioned about casting Letitia:
"…Shuri, Letitia Wright, we ended up doing two rounds with other actresses and reading with Chad, and it was really about chemistry with Chadwick.  And it was true on the day and it's still true, Letitia was one of the few people who could actually get Chad to laugh naturally because Chad is a very reserved person. But in the audition, it was like oh, that's his sister. And even on set, she's one of the few people that he actually relaxes around, she's so fantastic."
Black Panther Bonus Features
This is the list of the Blu-ray bonus features (may vary by retailer):
Director's Intro
From Page to Screen: A Roundtable Discussion – Delve into the film's making
Crowning of a New King – Explore the world of "Black Panther" in all its color and complexity
The Warriors Within – Get to know Wakanda's women and the actors who portray them
The Hidden Kingdom Revealed – Wakanda's diverse people
Wakanda Revealed: Exploring the Technology
Deleted Scenes- U.N. Meet and Greet, Okoye And W'Kabi Discuss the Future of Wakanda, T'Challa Remembers His Father, Voices from the Past
Gag Reel
Exclusive Sneak Peek at "Ant-Man and The Wasp"
Marvel Studios the First Ten Years: Connecting the Universe
In this acclaimed film, T'Challa, following the death of his father, returns home to the hidden high-tech African nation of Wakanda to succeed to the throne and take his rightful place as king. But when a man named Killmonger (Michael B. Jordan) appears, and T'Challa's mettle as king—and Black Panther—is tested as he's drawn into a formidable conflict that puts the fate of Wakanda and the entire world at risk. Pitted against his own family, the king must rally his allies and release the full power of Black Panther to defeat his foes and embrace his future as an Avenger.
Want to have a Black Panther Movie Night? Download these fun bingo cards: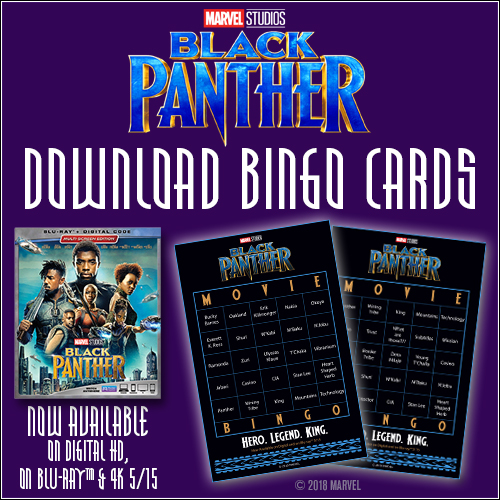 Follow Black Panther on
Facebook
,
Twitter
and Instagram
Enjoy!
Latest posts by Silvia Martinez
(see all)