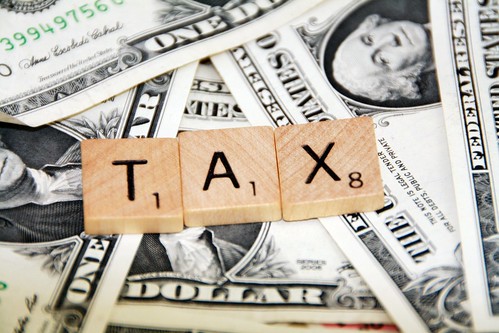 Each month I write a post on how to help protect yourself from identity theft. So since tax season is here and the deadline is approaching, I thought it would be a good time to talk about how to help protect yourself during tax season.
The good news is the IRS is working hard and turning up the heat on identity thieves who are stealing taxpayer identities in order to file for and receive fraudulent tax refunds, among other crimes. "As tax season begins this year, we want to be clear that there is a heavy price to pay for perpetrators of refund fraud and identity theft," says IRS Acting Commissioner Steven T. Miller. (Source: IRS) In fact, in fiscal 2012, the IRS tripled the number of criminal investigations into identity theft issues.
So here are 5 ways to help protect yourself during tax season:
Check out Your Preparer's History
You want your preparer to be around to answer questions both months and years after you file your return. So make sure they are trusted. You don't want to hand your personal financial information over to just anyone.
Beware of Offers to Get Something For Nothing
Be aware of offers to get you a refund even though you make no income. Someone may be just looking to get your personal information and social security number.
Use Strong Passwords
If you are using an online tax return, be sure to use a strong password including a combination of both lower and upper case letters, numbers, and special characters, like the percentage sign. Avoid easy to crack passwords like, "let me in" "password" and "1234."
Get Official Documents From Official Sources
If you are looking for official tax forms online, get them from www.irs.gov or other official government websites. Other, unofficial, sites could be offering these documents in order to get you to click on their links and unknowingly install malware on your computer.
Don't Leave Sensitive Documents on Your Computer. If You Do, Password Protect Them.
It's probably best not to store tax files on your computer. Save them to a CD or USB drive and keep them in a secure location.  But, if you are storing sensitive documents on your computer, password protect the file.
One last encouragement, try to start working on your taxes early to avoid stress and long lines at the post office.
If you'd like to keep up with more tips on how to protect yourself and your identity, the folks at LifeLock, the ones who relentlessly help protect identities every day, have a wonderful LifeLock for Life sweepstakes where you can learn new tips each month and enter to win great prizes. This month's prizes include a $1000 VISA gift card! Also, get great information delivered to your streams by following them on Google+, Instagram, Facebook, and Twitter (@LifeLock)
Photo credit: 401 (K) 2013
Disclosure: I'm a LifeLock Ambassador and as such I am compensated. As always my comments and opinions are my own. Mama Latina Tips Information Purposes Legal Disclosure
Latest posts by Silvia Martinez
(see all)